18 Apr, 2019
Made in India MRI
MADE IN INDIA MRI
Rajesh Harsh, Chief Investigator SCAN-ERA-A National Mission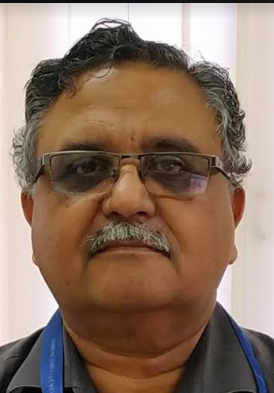 Need aspect
MRI machine is an excellent diagnostic tool for detection of various diseases by providing precise contrast resolution. With MRI it is possible to detect minute contrast differences in (soft) tissue. Another advantage of MRI is the possibility to make images in every imaginable plane. The major factor driving the MRI market from demand side is the growing population in developing nations and the increase in aging population in developed countries. MRI market has an opportunity to grow in the developing market such as Brazil, Russia, India, and China. With rising focus on healthcare, there is an increasing expenditure on capital equipment.
The global market for MRI is highly consolidated with majority of the market being held by a few major players. GE Healthcare, Philips and Siemens, together constitute most of the market. There is an increasing presence of Japanese players such as Toshiba and Hitachi. The remainder of the market is shared by smaller, often niche-directed companies (e.g. Esaote – low field extremity, IMRIS – intra-operative systems, Fonar – low field upright systems). Major systems integrators tend not to operate initially in new niche markets but let other players establish such markets. There are no Indian systems integrators selling their own superconducting MRI systems as yet. However, a number of Chinese and Indian companies are taking steps to enter into this market in competition with the majors.
If an indigenous MRI technology is made available, the cost of MRI scanning will go down considerably for the common man thus allowing a wider section of people to have convenient access to the otherwise highly priced MRI scans. Additionally, the capital investment for procurement of MRI scanners from the international market will be substantially reduced which in turn will save a lot of foreign exchange.
Considering these factors, the Ministry of Electronics and Information Technology (MeitY) Government of India launched SCAN ERA ( SWADESHI CHUMBAKIYA ANUNAD CHITRAN- EK RASHTRIYA ABHIYAN) - a National Mission program for indigenous development of MRI as a part of the Make in India initiative. Society for Applied Microwave Electronics Engineering and Research (SAMEER), Mumbai an R & D institute under MeitY has been given responsibility as nodal institute to execute this very important project of national interest. SAMEER, an offshoot of TIFR, was setup in 1960s for research, design and development of product in the field of RF and microwave systems. SAMEER also focuses on interdisciplinary research initiative addressing broader spectrum of electronics areas like optoelectronics, Digital signal processing, Navigational aids, atmospheric remote sensing systems and linear accelerators for cancer treatment. CDAC, IUAC, DSI-MIRC are the participating agencies in the SCAN-ERA program. This effort of Govt of India, will enable the Indian healthcare sector to soon see a 'Made in India' magnetic resonance imaging (MRI) machine, which would be much cheaper than those made by Multi-national companies.
The first prototype of Indigenous Magnetic Resonance Imaging (IMRI) machine should be ready by end of 2020. Once the prototype is ready, it will take around one more year to make it market-ready with all the required processes such as quality check and trial runs.
Development of this low cost IMRI machine in India will bring down the exorbitant costs to the patients. At present, in India, an MRI machine costs more than Rs 5-6 crore and therefore the charges are also high per scan for the consumers (Rs 5,000 and above depending on the requirement). Below mentioned is the cost data collected from market research:
| | |
| --- | --- |
| Price of single unit 1.5T (INR) | Price of single unit 3T (INR) |
| 5-6 Crore | 9- 11 Crore |
A study conducted indicates that India currently has approximately 3500 MRI machines which includes low field, 1.5T, 3 T and refurbished machines and installing 350-400 machines per year. The overall requirement of MRI in India could be approx. 7000-8000 machines to make this basic diagnostic machine available to the Indian masses. The installation of such large number of MR system would require huge capital investments still the cost of scan remains prohibitively expensive for common people.
Rate of conducting MRI (AIIMS revised rate for all hospital procedure) –
S. No

Type of Investigation & Category of patients

Fee Rs.

1.

Plain MRI OPD/Indoor (Pvt. Wards)

3000/- Plus Rs. 500/- (for films)

2.

Plain MRI Indoor (General ward)

2500/- Plus Rs. 500/- (for films)

3.

Plain MRI Outside (Medico-legal cases and other exceptional cases)

3500/- (with films)

4.

Additional clinical studies like MRA, MRS and/or additional parts being scanned during the same sitting. Additional payment is required. (applicable to each category of S.N. 1,2 & 3)

1500/-

5.

Extra cost for contrast MRI

Applicable to each category of S.N. 1,2,3 & 4

2600 For patients of age 12 years and above

1500 For children less than 12 years of age

6.

MRS for research

3000/- (no films will be issued)
The initiative taken by Govt. of India to develop MRI locally will reduce the investment substantially as well as the scan cost will also come down drastically. Manufacturing of MR units will increase job opportunities for Indian public. It would also provide excellent opportunities to Scientists, Researchers, Engineers of India to work in advancement in development of MR technologies such as artificial intelligence, and digital technologies once complete knowledge base of technology of MR and infrastructure to build the same is created within the country.
Current status
IMRI development is currently in its final year. Development of most of the sub-systems is completed and SAMEER is heading towards integration of these sub-systems with procured 1.5T G.E Magnet. The design of 1.5T IMRI magnet is also ready and currently under review. All other sub-components like Coils, Amplifier, Couch, Spectrometer, Pulse sequence generation and Image reconstruction software have been developed. In the first phase, all the hardware and software subsystem is being integrated with procured 1.5T GE magnet. SAMEER has successfully integrated single channel surface coil, 4 channel surface coil and head birdcage coil with the refurbished magnet. Eight channel coil has also been tested for its electrical performance and will be soon integrated with GE scanner. Images from SAMEER coils were obtained for various fruits like pomegranate, coconut, pineapple, banana, GE phantoms and dead animals like frog. These images were compared with images from GE coils and a better SNR was obtained in case of SAMEER coils.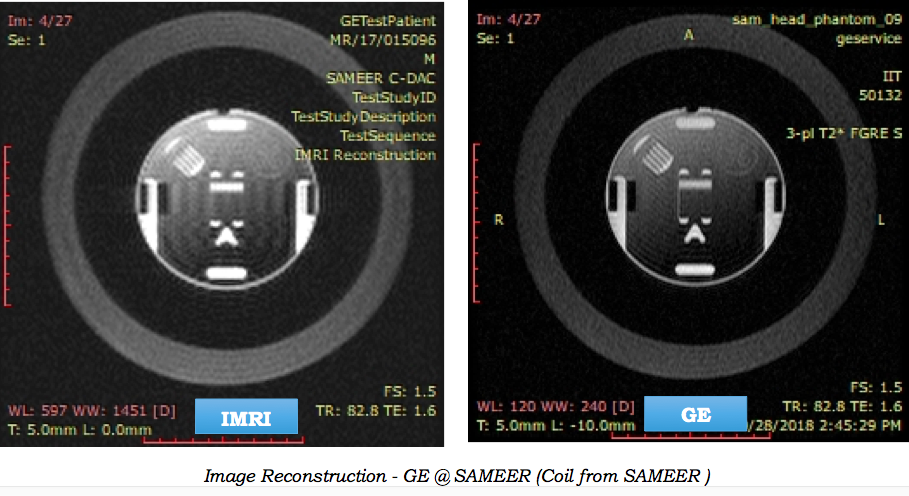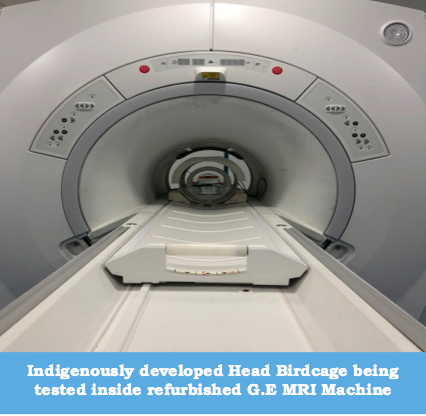 Eminent doctors such as Dr. Deepak Patkar (President Elect Indian Radiology and Imaging Association), Head MR Nanavati hospital and doctors & Academicians from various other institutions have been associated with IMRI team to guide, validate the performance of the subsystems being developed under this project. In the next stage SAMEER plans to conduct human trials using the IMRI system.