Dr Kakarla SubbaRao
Mar 31, 2019
Life Lessons from a Legend
An Interview with Prof. Kakarla Subba Rao
By
Dr Arjun Kalyanpur
Dr. Arjun Kalyanpur, CEO & Co-Founder of Teleradiology Solutions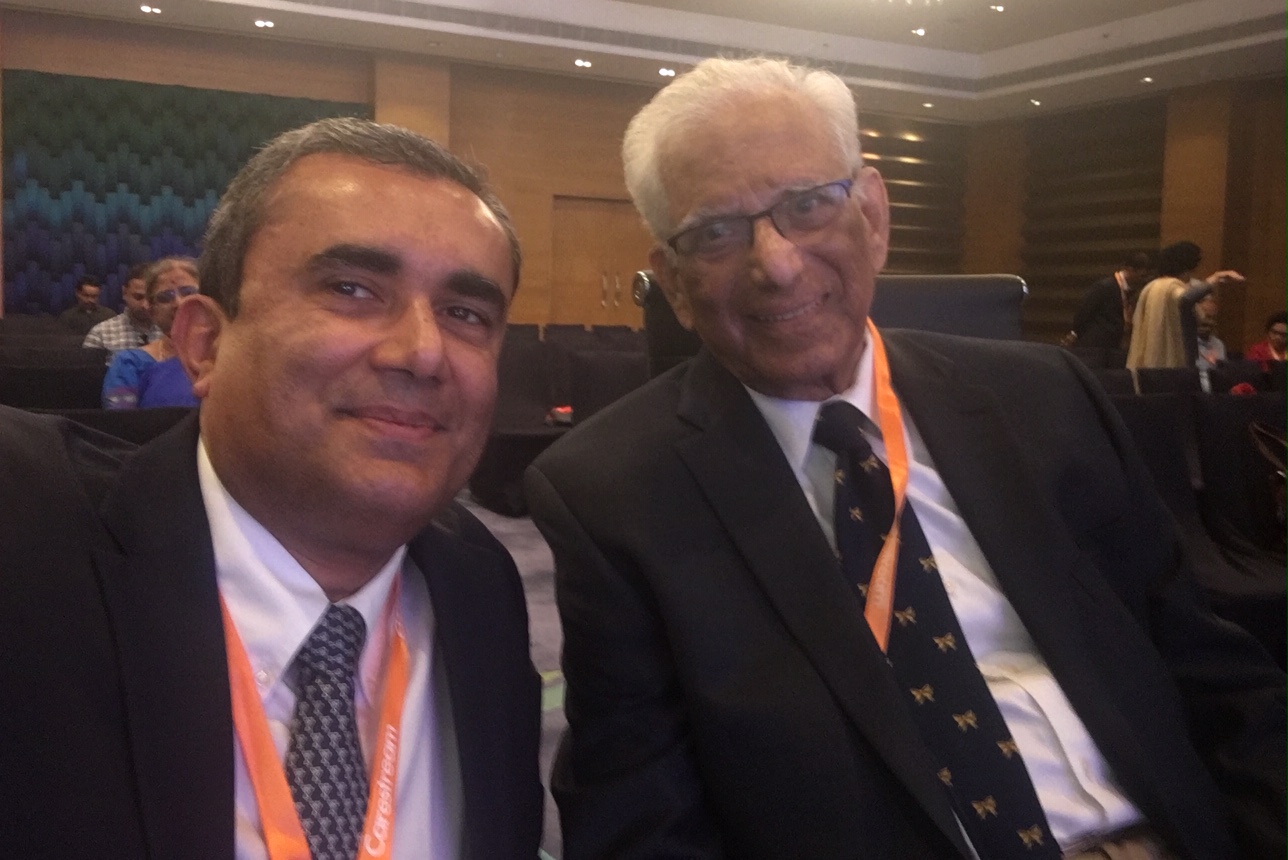 Dr Arjun Kalyanpur (L) with Dr Kakarla Subbarao
At the Society of Emergency Radiology conference in Hyderabad in late 2018, I had the privilege of meeting the legendary Prof Kakarla Subbarao, whose accomplishments in the field of Radiology are equalled only by his exceptional humility. I have long been fascinated by the stories I had heard about him – including that of him being called the Saint by his peers at Albert Einstein- Montefiore when he was professor there, of his exceptional skill in diagnosing bone tumors and of his return to India at the behest of then Andhra Pradesh Chief Minister NT Rama Rao to set up the Nizam's Institute of Medical Sciences. His teaching skills are exceptional. We were greatly honoured to have Prof Subbarao recently deliver an electure on our Radguru on the subject of Wrist Trauma. To this day Prof Subbarao is a constant presence at radiologic meetings and conferences. When we met at the Hyderabad SER conference I proposed an interview and he kindly accepted. The interview was conducted over email and it is my pleasure to bring it to you. Prof Subbarao's story is one of triumph over adversity, dedication, discipline and visionary academic zeal and there is much in it that can inspire young radiologists today.
Dr Kalyanpur: Please tell us a little bit about your childhood/early years and your family.
Prof. Kakarla Subba Rao: I was born in a small village near Kuchipudi (also known for classical dance style) in Krishna district, Andhra Pradesh. My family was dependent upon agriculture for generations with poor educational facilities. We belong to the middle income group, as per standards of those times; and I was the 4th son. My family was not very happy to have another boy as they expected a girl. In fact my father didn't visit me until sunset, as he feared being embarrassed by all the questions put up by others. In those days it was a tradition that the sons will inherit and share the land compared to the daughters (daughters could be disposed of with a small dowry); and with my arrival we were under the category of lower middle class.
Although my father's education was limited to Primary Telugu books, he was very fond of promoting education. As a leader of a group in village, he used to attend Government offices, courts and deal with lawyers in the nearby town (20kms away from the village). These contacts made him realize the importance of power and money of educated people. Hence, he started a school in the front portion of our house. My brothers were not interested in studies and did not continue in the school; and were engaged looking after the cattle and fields. We had 12 students in the school to start with, and a single teacher (Matriculation failed) who used to come from another village every day. Up to 6th class I studied in the same school and was always either 1st or 2nd in every class; and a pet boy to our parents and relatives.
I joined in high school which was about 12kms away from my village at the age of 12 which was a Telugu medium. I attained 2nd rank in SSLC and left for a nearby town named Machilipatnam for further studies (College); where I passed with 1st class in Intermediate.
Dr Kalyanpur: What prompted you to take up radiology as a specialty? Where did you obtain your initial training and experience in the field? What made you decide to focus on musculoskeletal radiology?
Prof. Kakarla Subba Rao: At the end of my medical course, I decided to go abroad for further studies for no particular reason; and fortunately, that year an advertisement appeared in the newspapers calling for applications for residencies in various medical specialties in USA, sponsored by Indian Medical Association. Since most of the applicants were seniors holding post graduate diplomas and degrees; I applied for Dermatology and Radiology, although I was interested in General surgery. Fortunately I was selected for radiology residency in Bronx Hospital, New York City and joined the hospital on June 26th 1951. I was utterly disappointed about my training as it was not a teaching institute; and joined MS (Radiology) at New York University, post 1 year of residency. I had the real learning experience during this period where I was re-learning all over the basics and the clinical subjects. A whole body was given to me to dissect and correlate with normal X-rays in a period of 2 months. I came with honours and joined as a resident in radiology at the New York University hospital. I used to work as a night technician at Bronx Hospital to pay the tuition fees and maintain myself; and attended classes during the day. All this was to obtain a post graduate degree, because without post graduate degrees the doctors were not respected or recognized by the society.
Dr Jacobson's consistent encouragement and the personal relationship made me enthusiastic and I showed interest in musculoskeletal radiology.
Dr Kalyanpur: What was behind your decision to relocate to the US? What was the transition like in those days?
Prof. Kakarla Subba Rao: During 1969's Telangana agitation, our house was burnt and the grape garden managed by my in-laws were destroyed. Deeply disturbed by this, I requested Dr Jacobson for a job as I have known Dr Jacobson while working at New York University. I got an immediate positive reply offering me fellowship to be on the faculty though I was not holding a green card. I arrived New York on June 25th 1970 in with my family and joined the Montefiore group of hospitals .During the 1st year, I passed the flex exam and was promoted as Asst. Prof.; and later as Professor. The residency program at Montefiore hospital was a high pressure, strictly disciplined high standards training culture, where I had to study hard and work several hours to catch up with the progress of radiology due to differences between the practices of radiology in India and USA.
Dr Kalyanpur: Professor Jack Lawson who taught me musculoskeletal radiology at Yale told me that at Albert Einstein you were known as "the Saint" because of your calm temperament. Please tell us about the experience of your years at Einstein-Montefiore. What was it like working with Professor Harold Jacobson?
Prof. Kakarla Subba Rao: The residency program at Montefiore hospital was a high pressure, strictly disciplined high standards training culture, where I had to study hard and work several hours to catch up with the progress of radiology due to differences between the practices of radiology in India and USA. Some of the faculty displayed a negative attitude by mistreating and abusing the residents. In fact some of the residents used to come to me filled with frustration and wished to quit the program in the middle; I consoled them and tried to maintain peace in the department. Dr Jacobson encouraged me to attend conferences to present papers and eventually we (both of us) started publishing several papers in journals. Soon I was made a member of International Skeletal Society and served in the editorial board for several years.
Dr Kalyanpur: You are known as the radiologist who could correctly diagnose a bone tumor by looking at the radiograph from across the room, and that often your diagnosis was more accurate than the pathologist's. What attributes led to your skill in interpretation of such a complex challenge as bone tumors?
Prof. Kakarla Subba Rao: The high pressure, strict disciplined high standards training culture at Montefiore hospital during my residency program, Dr Jacobson's consistent encouragement which led me to attend conferences to present papers and eventually publishing several papers in journals; being a member of International Skeletal Society and serving in the editorial board for several years, were the contributors to my skill set.
Also, diagnosis of bone tumours was a big challenge as CT was just introduced; and I had to device some mnemonics to analyse the tumour in order to come to a conclusion.
For example, 'STAMPS' – 'S' stands for Solitary and site, 'T' for Transitional zone, 'A' for Aggressiveness and Age, 'M' for Mineralisation of the matrix, 'P' for Periosteal reaction and 'S' for soft tissue morphology. Often our diagnosis was correlated with histology as there were no immuno histochemistry or tumor markers available.
Dr Kalyanpur: The story of your being invited to return to Hyderabad by then Chief Minister of Andhra Pradesh Mr NT Rama Rao to start the Nizam's Institute of Medical Sciences is one of legend. Please tell us about your experience of returning to India and of starting such a center of excellence.
Prof. Kakarla Subba Rao: It was an orthopaedic hospital with few beds for cardiology, cardiothoracic surgery, and neurology / neuro surgery. The equipment was poor and the infrastructure was not up to the mark with no CT or path lab. We decided to name it Nizam's Institute of Medical Sciences and to run like AIIMS in Delhi. Because of the CM, the officials co-operated and accepted my plans; however, due to poor finances we couldn't pay the salaries like AIIMS and I was quite unpopular, and became a controversial figure. Some of the NRIs, who visited me, remarked that I shouldn't have trusted the political leaders. I was stubborn and did not wish to go back to USA; and with self financing / loans from banks we made it a real institute of medical sciences.
Dr Kalyanpur: Radiology has changed a lot since you first became a radiologist yourself. What do you see as the positives and the negatives of this change?
Prof. Kakarla Subba Rao Today's trend of young radiologists is to follow commercial lines with little attention to patient welfare, innovation and research. However, about 5% of them are really brilliant and technologically oriented; and some are our former residents who are doing extremely well in foreign lands.
Dr Kalyanpur: Today you continue to inspire the new generation of radiologists by your warm and encouraging presence at Radiology conferences and through your KREST Foundation. What is your vision for the Foundation and what do you see as your legacy?
Prof. Kakarla Subba Rao: KREST foundation was established with an objective of elevating radiology and image logical standards by conducting CME courses and establishing a first class film museum. It consists of more than 10,000 films and exam going residents go through these files. I guide them personally often by conducting quizzes, lectures etc. Today most of the learning is through internet and audio visual conferences; hence the museum is only good for conventional radiology which is neglected.
Dr Kalyanpur: In conclusion, what message would you like to pass on to young radiologists today?
Prof. Kakarla Subba Rao: Finally, the message I pass to young radiologists is that they should dedicate themselves to the profession by selecting a sub-speciality. The future is highly technologically oriented with AI, 3D printing, machine learning, Teleradiology, medical tourism, genomics and utilisation of robotics in interventional techniques. It will not be far off that our radiologists will compete with world radiologists and become leaders in the profession; and I wish them all good luck.
Interview conducted by Dr Arjun Kalyanpur. Dr Kalyanpur is CEO & Co-Founder of Teleradiology Solutions (www.telradsol.com), a global healthcare Company headquartered in Bangalore, that reports radiology scans for over 150 Hospitals in the US, Singapore, India, Europe and Africa. He is a Board-certified and Fellowship trained radiologist and obtained his medical and radiologic training at AIIMS, New Delhi, Cornell University and Yale University in the US. He was awarded Modern Medicare's Entrepreneur of the year award in 2007, named one of the 50 pathfinders in healthcare in India in 2009 by Express Healthcare magazine and one of 25 healthcare influencers by Healthcare Executive in 2015. He was awarded "Healthcare Entrepreneur of the Year" by Frost and Sullivan in 2015.